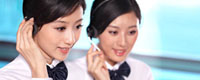 Tel: +86-532-86675626
Fax: +86-532-80615836
E-mail: info@flotation-reagents.com
Add: Qingdao export processing industry zone,Qingdao,Shandong,P.R.China

Skype: flotation-reagents



Product name : Ammonium Thioglycolate

Product No. : ATG
Details:
Ammonium Thioglycolate

1.Characteristic :
Colorless or pale red liquid,Molecular weight: 109.14 ,With penetrating odor.


2.Q S
| | |
| --- | --- |
| Item | Q S |
| Purity(%) | ≥50% 60% 70% |
| Specific Gravity (ρ20,g/cm3) | 1.24(25℃) |
| PH | 6.0-6.8(25℃) |

3.Main Application:
As the main raw material of cold wave lotion

When drilling oil and gas well with high pressure, to protect the hydrocarbon reservoir and decrease the damage to stratum, bromide( CaBr2、ZnBr2 )needs to be used, which density is 2.30g/cm3..These strong solution of saline has strong causticity, and the causticity will increase with rising of temperature. In some high pressure wells, the temperature could reach 200℃. Through experiments, it is proved that as the inhibitor, only sulfur compound can restrain brine corrosion under high temperature of 140-200℃. It is because that these compounds will act with metal under a certain temperature, and will form a compact FES protective film. Ammonium Thioglycolate is an excellent inhibitor that can be used as wnickel salt well completion liquid , when used separately, it has an good effect under a temperature scope between149℃-204℃. Normally, It should be used together with thiocyanate inhibitor and antioxidant (saccharides and aldehydes).The formula of inhibitor is to add Ammonium 0.6% of Thioglycolate, 0.4% of sodium thiocyanate, and 0.8% ascorbic acid 0.8%. Add these material according with the formula to well completion liquid, which is with the density of 2.0g/cm3 and with ZnBr2 included. After seven days corrosion test, the corrosion speed is 0.155mm/a.

For the detailed application, please see the attachment: USA Patent 004784779

4.Packing:
250kg/drum or 30kg/drum.

5.Storage:
To be away from sunlight and air.

6.Matters and Attention:
Keep it away from skin, eyes and oral cavity. If it happens, rinse with plenty of water immediately.